Unique Wearable Art!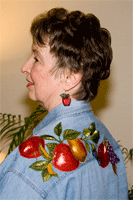 My appliquéd denim clothing has a variety of designs and themes for ADULTS and CHILDREN, including those listed under Products, plus 100% organic cotton tote bags for shopping, books, hostess gifts when traveling, etc. Each shirt, dress, skirt, romper or tote bag is unique in design and has been pre-washed. The design process includes cutting the desired theme from fabric, creative arranging and then sewing the appliqués onto purchased denim clothing using various thread colors to match the fabric.
I have quite a selection here in my home, where you have the opportunity to create your own original by choosing a specific shirt or tote and arranging fabric appliqués where you wish them to be placed! I will then have your special order ready within a few days.
For various holidays all year long, plus special birthdays for children, grandchildren (and even ourselves!), Denim Designs shirts and totes make very special gifts! Items for children are usually $40 to $55, while adult shirts and jackets are normally $40 to $70. 100% organic cotton tote bags are priced between $22 to $50, depending on size and complexity of the design. I can easily e-mail photos if you wish.
I encourage you to come to my home to see more completed items (please call first for directions).
Bring a friend or neighbor to enjoy refreshments while you look!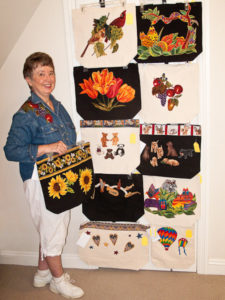 Joan Unter
(916) 333-1866
Denim Designs
Carmichael, CA
Contact me via email at joanunter@comcast.net