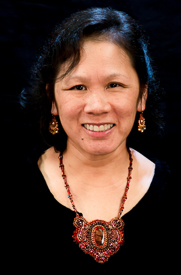 Welcome! I'm an award winning bead artist. Embroidered bead design is the outer most expression of my creativity. My medium is tiny seed beads and beautiful gemstones. My work is very tactile and it evolves as I work through the materials to express a treasured idea or feeling.
I'm part of a new generation of Bead Artists. Artist like Sherry Serafini, Heidi Kummli and more recently, Andrea Grzabka 2014 and 2015 Bead Dreams winner, have taken the artistry of embroidered bead design to a new level. Many other artists have contributed to this movement and a new artist is stepping out on the horizon every day. I'm very excited about this. Each new design expands the boundaries of creativity. When this happens, you find inspiration everywhere.
I find a source of inspiration in the skies and firmament. Recently my energy was all wrapped up in capturing a specific subject. At dusk, I find my subject as a gorgeous, expansive orange cloud formation. I'm in awe of the interplay and timing.
The name of my company is Sierra Bead Art. Currently, I'm expanding my Hundred Earring project. I continue to be inspired for the Ke Aloha series. I have a goal of adding dimension to my beaded creations.
In 2012 I tied for a Bronze Prize in the competitive Fire Mountain Gems competition, Seed Bead Category. Each year I design a limited number of embroidered necklaces.  Currently, I'm finding a lot of joy  working on my The One Hundred Earring Journey project, inspired by my favorite summertime movie, The Hundred-Foot Journey.  Delicate bead woven patterns, crystals, pearls and Herkimer Diamonds are featured in this collection.
I hope my work inspires creative solutions within the viewer as they take in my artistry.
Melodie